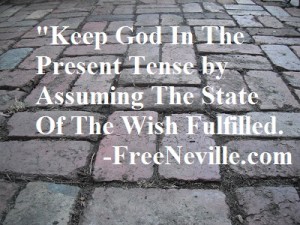 Hey mate,
Last week we explored the nature of doubt, the state Neville calls the devil.  This week we are going to reduce and maybe even eliminate another "demon" from your mind.  The demon of fear.  You can begin doing that today, by remembering the truth about you – that you are the Good Shepherd.
"Maybe you would rather continue to walk with the sheep of the world and not be the shepherd, but you would like to feed on green pastures by still waters, instead of climbing the steep hills of doubt and fear as most people do. You can, if you will persistently assume: "I am well fed. I am wanted. I am known and everything is as I want it to be." But remember: to bring all these things into being, there must be a persistent assumption. That's the story of Jesus." – Neville Goddard
You are not a sheep.  You are the shepherd.    Your thoughts and your emotions are the sheep.   People who are blindly driven by their thoughts and emotions are sheep.  And anytime you choose not to be an effective Good Shepherd – they will drag you up the steep hills of doubt and fear.
If you choose today to be the Good Shepherd, your sheep – your thoughts and feelings will be fed on green pastures by still waters.
"You who are here are hungry for the Word of God. You are thirsty for the Word of God. You could be at home this night watching TV and it would cost you nothing, but you have given up your time and your money to be here because of your hunger. I have been sent to tell you not only that you become God when he is fulfilled in you, but how to cushion the blows in this world of reason by delighting in his law. His law is simply a persistent assumption in the claim: "I am what I want to be."" – Neville Goddard
Like the original listeners of Neville, you are hungry and you are thirsty for the truth.   You could be in your home watching TV, listening to the news or watching mindless reruns, or participating in fear mongering gossip with friends or family members.  But instead, you have chosen to be here with us, and to invest in you – to invest in learning the truth about you and about our world.
So how do you be the Good Shepherd?
Neville says to assume today,"I am what I want to be".   Walk in that lovely state, and be indifferent to the fear based fanatics in the world.  Let go of your frustrations, and embrace the truth – you are subject only to what you hold in mind – and what you hold in mind you embody and you manifest in your life.
Be the good shepherd, be the true you.
Mr Twenty Twenty and Victoria
PS:  Several years ago I produced a program called Kill Fear Dead.  If you would like the first two weeks of that training as our gift, go here:   Kill Fear Dead – It is our pleasure to share with you this adventure of a lifetime.
PPS:  Imagining Creates Reality.  On the most basic level, if you imagine fear – you will create "fear response" chemicals in your body – which is not you — it is part of the universe YOU live in.   Same with frustration and same with apathy, wrestle with them till the dawn of a new day – like Jacob.
And if you don't do that, you'll not only harm your health, but you will not fully enjoy the present moment.  (Have you noticed how many miserable people there are in the world, claiming if they had "something else" that they would THEN be able to "feel good" – feel the state of the wish fulfilled?  Have you noticed when they do get their new toy or what ever it is they wanted – they still don't enjoy it – because they still can't enter into the state?)
If on the other hand, you choose now, to Stay Positive – Feel Your Ideal As Real, you will create wonderful "chemical soup" in your body, be healthier and happier, and you will attract and actually NOTICE the blessings around you even more.   Be the Good Shepherd, enjoy the green pastures and the still waters.